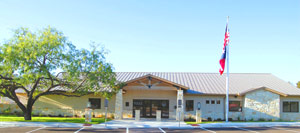 Premier living in a warm, friendly atmosphere. Horseshoe Bay offers the finest in resort living. This is a real community, a place to play, and a place to call home.
The Horseshoe Bay community has 24–hour police and fire protection and Emergency medical services provided through the City of Horseshoe Bay.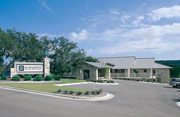 The Scott & White Clinic – Horseshoe Bay is a 6,013 square foot facility exemplifies Scott & White's commitment provide the most personalized, comprehensive & highest quality health care, enhanced by medical education & research.
Horseshoe Bay is an independent community with a very active Property Owner's Association located at Quail Point, a property owner's park on the waterfront of Lake LBJ. The Horseshoe Bay P.O.A. was established in 1974 as a Texas non-profit corporation. The P.O.A. offices are located at Quail Point Lodge on Twilight off Red Sails. Office hours are 9:00 a.m. to 5:00 p.m. Monday through Friday.
The P.O.A. is administered by a 7-member Board of Directors who serve 3-year terms and receive no salary. Elections are held at the annual P.O.A. meeting of members during the month of March. Every owner of a lot, tract, or dwelling is a member of the P.O.A. and is entitled to one vote per lot, tract, or dwelling.
The P.O.A. is responsible for enforcing Deed Restrictions and for improving and maintaining parks, and properties owned by the P.O.A. Majority of funding for these activities comes from the P.O.A.'s share of Maintenance Fees. Additional income is derived from rental fees for the use of P.O.A. properties, sale of yard lights, the Horseshoe Bay Phone Directory, and interest received on invested funds.
The P.O.A. owns and maintains the Quail Point Lodge, campground, lighthouse, mausoleum, and over 60 properties consisting of rights–of–way, easements, and land donated by the developers of Horseshoe Bay.
The HSB POA Board also serves as the Board of Directors for The Cape, Inc. Homeowner's Association per the 1998 Transfer Agreement.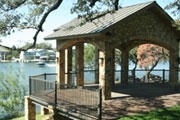 Quail Point Lodge was remodeled in 2011, expanding the original building substantially, and now offers the Founder's Pavilion to Horseshoe Bay property owner's to use when the building is rented for functions.
The Horseshoe Bay Community is served by two religious centers. The Horseshoe Bay Chapel was dedicated on December 5, 1982, and has served the entire religious community of Horseshoe Bay.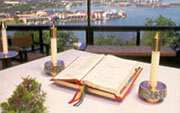 The Church at Horseshoe Bay, an interdenominational congregation, was organized in 1982, and moved to its present facility, shown below, in 1993.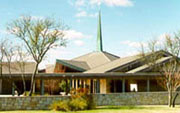 The first standalone U.S. Post Office in Horseshoe Bay officially opened for business on October 13, 2000.
The people of Horseshoe Bay believe in Southern hospitality and welcome newcomers with open arms. There are a number of community groups and year-round activities for all ages.